Vital Herb Full Spectrum Hemp CBD Oil - 500mg 5% (10ml) Strawberry Flavour
SKU
VH-VH-FSCBDOIL-5-10-STR
Max Potency
99.6% Pure CBD
Lab Tested
Made in switzerland
100% Natural
Vital Herb Full Spectrum Hemp CBD Oil - 500mg 5% (10ml) Strawberry Flavour

Specs Table
Brand
Vital Herb
Bottle Size
10ml
Drops per Bottle
200
Lasts For (Based on 5 Drops/Day)
40 Days
Flavour
Strawberry
CBD Content
500mg
CBD Concentration
5%
CBD per Drop
2.5mg
Carrier Oil
MCT Coconut Oil
Extract
Full Spectrum
Extraction Method
CO2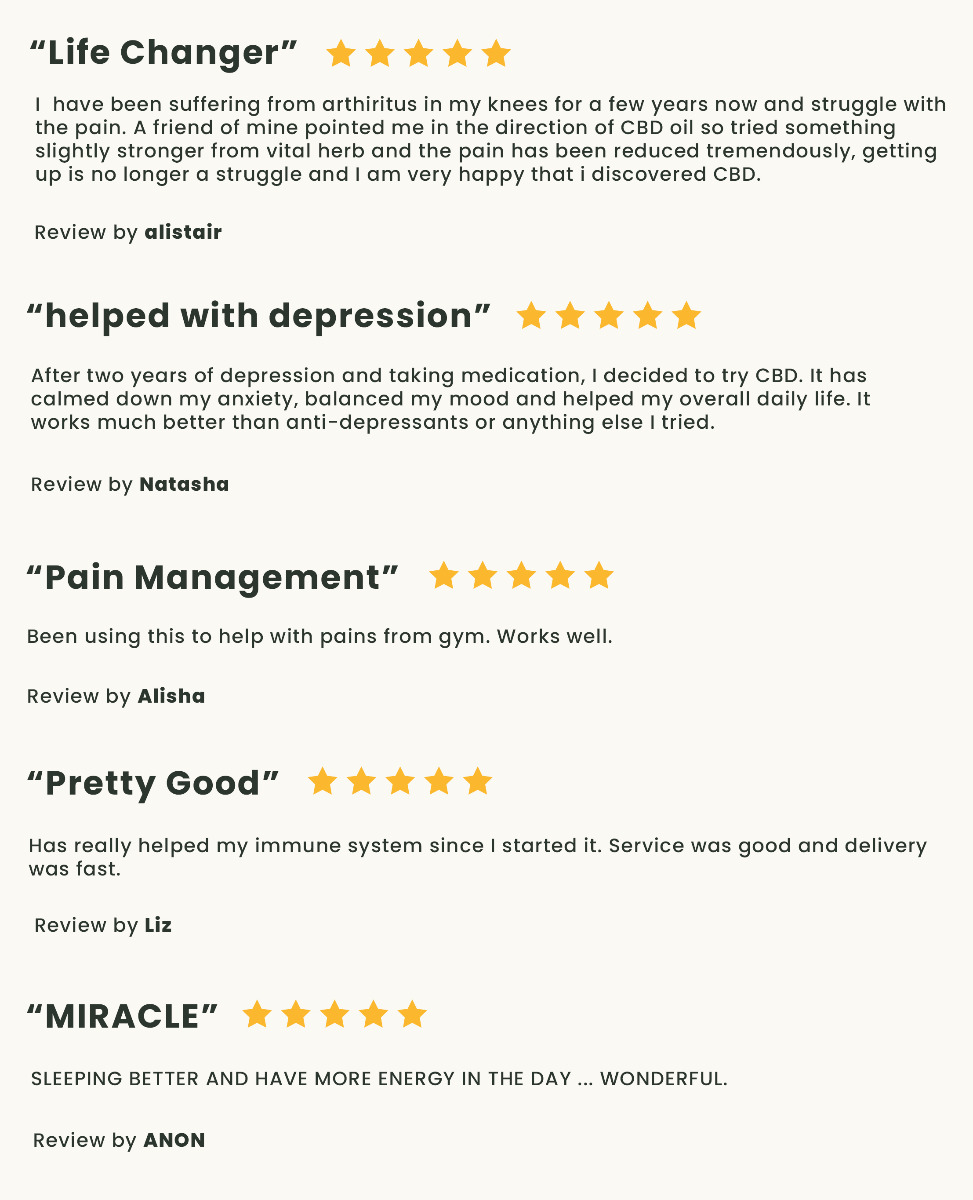 The Vital Herb Full Spectrum Hemp Oil - 500mg 5% (10ml) Strawberry Flavour contains 500mg of flavoured CBD. Enriched with a strawberry taste, this 10ml bottle has a lower concentration of just 5% and is perfect for CBD-newbies! Made to be incredibly smooth, this clear oil will never be thick or grainy in taste.
As a Full Spectrum oil, it contains CBD and other compounds that are found in Hemp extracts – like terpenes, flavonoids and fatty acids. The carrier oil for this product is MCT oil, found in high concentrations in coconut and palm oil, so that the body can easily digest and absorb the drops.
Full Spectrum Hemp CBD oil never contains more than 1mg of any controlled substances, which falls under the UK legal requirement to sell, buy and consume.
Derived from Hemp, our CBD oil is extracted via a super critical Carbon Dioxide method. Within this process, the plant is put under high pressure to press the plant into a liquid. This method is highly favoured for Full Spectrum products as it will pull the compounds in the sizes similar to those found in the plant for a well-balanced oil.
Taking Your Oil
All Hemp CBD Oil Drops are to be taken sublingually. This means that you should hold the pipette over your mouth and drop the oil under your tongue - hold it here for 60-90 seconds before swallowing or washing down with water. We recommend to begin with 2-3 drops daily and increasing this over the following weeks. Please be advised that Hemp Oil Drops should never be vaporised.
If at any point you feel ill, do not risk it and please contact a health professional.
We advise that you seek advice from a qualified GP before taking any Hemp CBD supplements – especially if you are on a medication, pregnant or breast feeding or have any general concern in regards to your health. In addition, please do remember to keep any CBD product away from children.
This product is not intended to diagnose, treat, cure or prevent any health ailment or disease.
Our bottles are protected with a child-lock seal. To open, please push down and twist!
Other Products You'll Love
With a range of different Hemp Oil Drops at your fingertips, this isn't the only one that may tickle your fancy.
The Vital Herb Full Spectrum Hemp Oil - 500mg 5% (10ml) Natural Flavour is the same as the above product, yet comes without the strawberry taste. Instead, it is naturally flavoured for an earthy and organic taste.
For a slightly stronger concentration, opt for the Vital Herb Full Spectrum Hemp Oil - 1000mg 10% (10ml) Strawberry Flavour. Still flavoured with a beautiful sweet strawberry taste, this oil has 1000mg of CBD and therefore a concentration of 10%.
Our Vital Herb Guarantee
All of our Vital Herb products are grown on 240 acres of farm in Switzerland in a QA-QC, ISO and cGMP compliant facility. This ensures that the system that our farmers are using for producing and controlling products is consistent and up to a good standard. They are grown in the optimum pH balance of soil with local water sources for maximum efficiency.
Our Hemp Oils also contain no pesticides, herbicides or additives. Our CBD rich products are vegan, gluten- and GMO-free. The on-site lab will verify the potency, chemical balances and purity before the product is 3rd party test for optimal quality control.
In order to keep your oil in the perfect shape for consumption, please keep at room temperature. The bottle should be kept away from humidity, heat and light – and never refrigerated.
The Boring Bits
Order today to receive your supplements within 2 – 3 days at no extra cost. Next Day Delivery requires a small fee of £2.99.
In the event that you change your mind, you can send the product back to us, unopened and unused, within 14 days of purchase.
If you have any questions, give our team a call on 0116 321 4300 or send an email to support@vitalherb.co.uk. You can follow us on Twitter, Facebook or Instagram to keep up-to-date with all things Vital Herb and CBD.
Specifications
More Information

| | |
| --- | --- |
| Brand | Vital Herb |
| CBD Content | 500mg |
| CBD Concentration | 5% |
| Bottle Size | 10ml |
| Flavour | Strawberry |
| Extract | Full Spectrum |
| Carrier Oil | MCT Coconut Oil |
| Extraction Method | CO2 |
| Product Type | CBD Oil |
Ingredients:
Medium Chain Triglycerides (MCT), Hemp Seed Oil, <0.2% THC